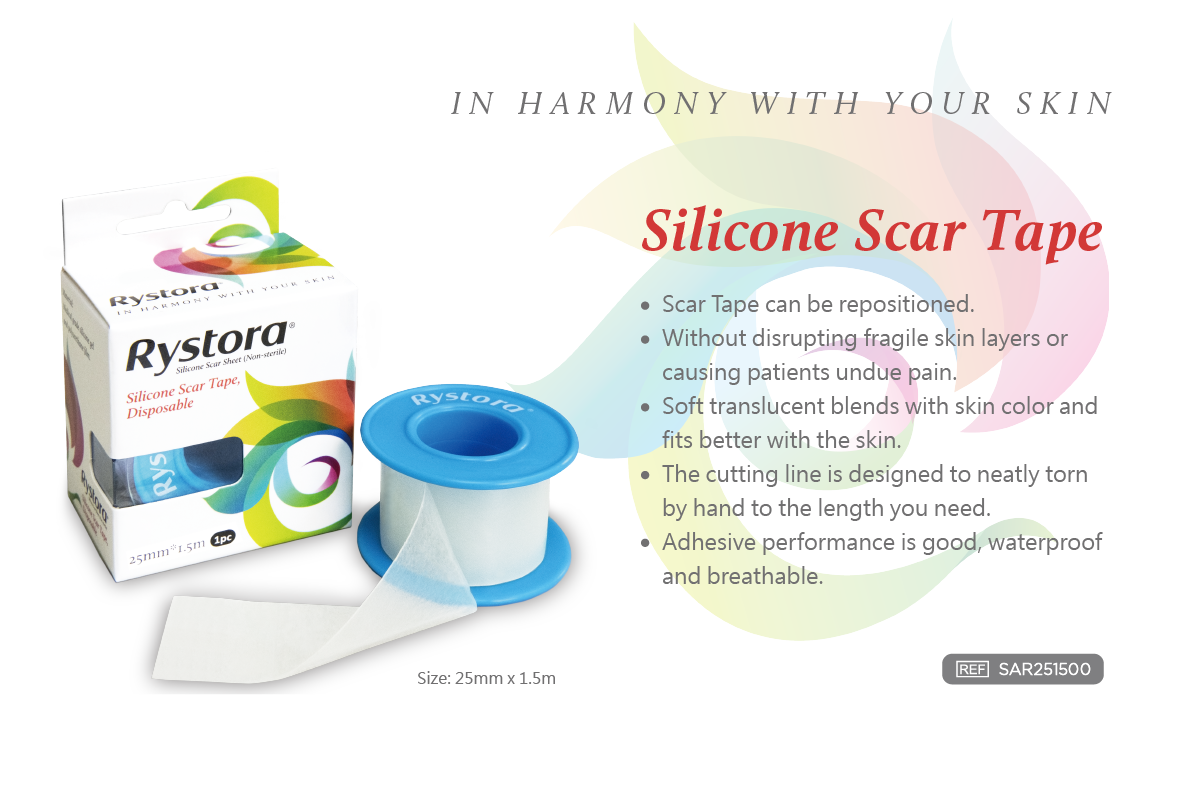 Rystora® Silicone Scar Tape is used to flatten and fade the new and old scars, and help to prevent the formation of scars including hypertrophic scars and keloids. Scar Tape can be repositioned, no sticky hair, no residual glue. Without disrupting fragile skin layers or causing patients undue pain. Soft translucent blends with skin color and fits better with the skin. The cutting line is designed to neatly torn by hand to the length you need. Adhesive performance is good, waterproof and breathable.
WHY USE Rystora® Silicone Scar Tape
Made of polyurethane film and Silicone gel.
Cut-line design, easy to use and torn neatly.
Pre-cut design, can be cut in any length by hand, meanwhile keep appropriate tensile strength of the tape.
Thin, flexible, painless to remove and not damage the skin.
Good stickness, waterproof, no edge warped.
Single-use design to maintain hygiene.
HOW TO USE Rystora® Silicone Scar Tape
Step 1
Ensure that the skin is clean, dry, and free of ointment or cream before applying.
Step 2
Choose the proper length of Rystora Silicone Scar Tape, disposable (Non-Sterile) through tearing line to make sure it could cover the scar area completely.
Step 3
Slightly press the Rystora Silicone Scar Tape, so that this product can stick to the skin firmly.
CAUTION:
Do not use on open wounds or unhealed skin since this product is non-sterile.
Make sure the skin is clean, and no cream or ointment on the scar.
If a rash or irritation develops, immediately remove the Rystora Silicone Scar Tape and consult a doctor or pharmacist.
Keep out of reach of children under 3 years of age to prevent any risk of choking.
Adhesion of this product will be affected by user's skin condition, such as sweat and hair.
When used on the moving parts (joints or flexures), adhesive tape or telescopic bandage can be used to assist in fixed this product.
Effect of this product might vary with the conditions of scar tissue and patient.